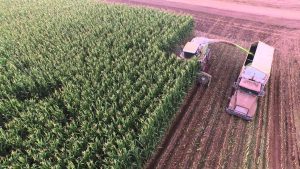 The Marinette office of UW-Madison, Division of Extension, sponsored corn silage moisture monitoring sampling days during September of 2020.  The first of these sample collection days was Tuesday, September 1st.  The other two days were Tuesdays, September 8th and 15th.
Results from the first sampling day clearly show that there is quite a bit of maturity variation amongst corn fields in the county yet.  This is a reminder of how important it is for individual farms to sample their own fields and make sure that they are harvesting their own fields at the optimum silage moisture for their farm and storage situations.  The table below summarizes the sample data by sample collection site, with 26 total samples from 13 farms.
Site                  Ave. Moisture Range
Middle Inlet                68        66-70
Crivitz                        73.5      73-74
Beaver                       71.25    67-77
Grover                        70.6     60-77
As corn matures and the grain dries down, whole plant moisture percentage also goes down, usually about 0.4 to 0.5% per day.  If a farm has a field testing at 71% moisture and they want it to be 67% at harvest to go into their bunker silo, they probably have about one week to ten days until that field is at optimum moisture.
Any producers wanting to discuss corn silage management, or other production concerns, can contact Scott Reuss, Marinette Agriculture Agent, at 715-732-7510, by e-mailing him at scott.reuss@wisc.edu