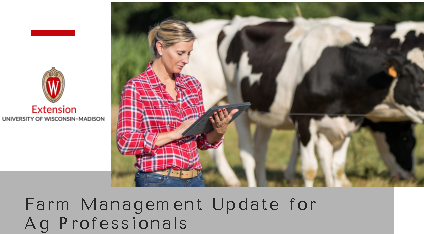 Effectively communicating in times of stress is critically important for any business, but especially for farm businesses. 2020 has added additional possibly difficult topics to the list of topics which farm families may need to have on the discussion docket.  A free webinar is being offered by UW-Madison, Division of Extension, to assist farm families and their agribusiness partners think about and discuss 2020 taxes, COVID-19, and Tough Conversation Topics, in general.
The webinar will be held on December 10, 2020 from 1:00 to 2:30 pm. Topics and speakers for this virtual meeting will be:
•Tax & Spending Conversations: How Do We Handle Government Payments & Income? Presented by: Jonathan Shepherd, Farm Management Specialist, University of Kentucky
• Combatting COVID-19 in Rural Communities Presented by: Cindy Kinnard, Kewaunee County Director of Public Health
• Reframing Tough Conversations for Success Presented by: Tina Kohlman, Extension Fond du Lac County Dairy & Livestock Agent and Stephanie Plaster, Extension Ozaukee & Washington County Agriculture Educator.
There is no registration fee, but you must pre-register by 5:00 pm on December 9. Registration can be made online at https://go.wisc.edu/2rcpis. After submitting the online form, you will receive further details on how to connect to the webinar.
If you have any questions about the content of this webinar, or want the registration link e-mailed to you, contact Scott Reuss, Marinette County Agriculture Agent, at either 715-732-7510 or scott.reuss@wisc.edu
This program is being sponsored by these UW-Madison Division of Extension offices: Brown, Calumet, Door, Fond du Lac, Kewaunee, Manitowoc, Marinette, Oconto, Outagamie, Ozaukee, Shawano, Sheboygan, Washington, Waupaca, Winnebago.