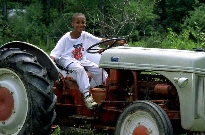 The Marinette and Oconto offices of UW-Madison, Division of Extension, are offering certification training for the youth Tractor & Machinery Safety permit. Youth that are between the ages of 12 and 16 need to have this certification to be able to legally drive any type of farm implement or tractor on public roadways when working for their family farms, or other farms after the age of 14. Youth not having a driver's license should also have the certification for farm insurance purposes.
Training will be conducted at three in-person instruction days, plus self study of the materials. Scott Reuss, Agriculture Agent, will be leading the course and overseeing students at the testing and skills building portions. There is a registration fee of $40, which includes all course training materials. Registration is required. To register, e-mail the students' name, mailing address, contact phone number, and student and parent e-mail addresses to scott.reuss@wisc.edu Reuss will send an invoice for the registration fee along with forms which need to be signed to begin the course. You can also request a registration form by calling Reuss at 715-732-7510, or watch for it in the agriculture newsletter.
Training dates are Tuesday, July 13; Tuesday, July 20; and the testing and skills reviews will be conducted on Thursday, July 22nd . Each day of in-person training starts at 9 a.m. and lasts until 3 p.m. and will take place at the Pound Town Hall on the east edge of Coleman. State law requires that youth need to be 12 by the date of the testing to be eligible for the certificate. If you have any questions about eligibility or requirements for training, or the course methodology this year, contact Scott Reuss as above.