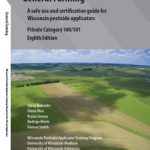 Three Pesticide Applicator Training sessions will be offered this winter for any Oconto & Marinette County agricultural producers needing to re-certify or become certified to apply restricted-use-pesticides. Anyone wanting to purchase and/or apply restricted-use pesticides for agricultural production must become certified by either attending one of these sessions or taking a self-study exam. The cost is $40 for the five-year license, reference book and educational session materials.
As rules change every year, any producer who applies pesticides on a for-hire basis should review their need to be private vs. custom applicator certified. Any certified pesticide applicator can apply pesticides on a for-hire basis on up to 500 acres, for 3 or fewer producers, which includes the application of propionic acid as a hay preservative. If anyone applies more than that amount, they need to be certified as a custom applicator.
Although not necessary, it is recommended that any person that uses pesticides of any sort learn about proper pesticide application and safety principles by attending one of these sessions. Farm employees also benefit from getting certified, even if they don't directly apply pesticides. The safety lessons learned at this session may save your farm from a problem in the future.
The remaining sessions are:
Thursday, February 10 Pound Town Hall (east edge of Coleman on Hwy. B)
Tuesday, March 8 Oconto Falls Library (251 N. Main St.)
Local sessions are facilitated by Agriculture Agent Scott Reuss and sponsored by Oconto and Marinette County offices of UW-Madison, Division of Extension. Training begins at 9:30 a.m. and last until approximately 3 p.m. Training materials must be purchased through the Marinette County Extension office, contact them at 715-732-7510, by e-mailing to sreuss@marinettecounty.com or by stopping at the office in the Marinette County Resource Center. Coordinating the self-study option should be done via the same methods. If you have any questions about the applicator training process contact Scott Reuss, Marinette & Oconto County Agriculture Agent, through any of the above means.