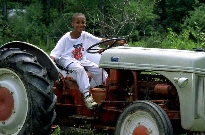 Training delivered via self-study, webinar sessions, and attending two live training days.
Live training days are at Pound Town Hall – Coleman, WI on Wed/Fri, July 27 & 29 OR at the Antigo Town Hall – Antigo, WI on Tues/Thurs, July 19 & 21
Cost: $45/person
9 a.m. to 3:15 pm each live session day
Webinars and self-study check-ins will be scheduled throughout July and will have two
opportunities for each lesson.
Who Needs To Attend the Training?  Any 12 to 15-year old who may need to drive any type of farm machinery on a public road in Wisconsin. Others are welcome to attend the course, but only those older than 12 will receive certification. Those 16 years old and older without a valid driver's license can also utilize this training to be legal to drive farm machinery on public roads.
Legal Review: In Wisconsin, 14 and 15 year-olds who have successfully passed the Wisconsin Safe Operation of Tractor and Farm Machinery Course can legally drive farm machinery on public roads for their parents or grandparents' farms AND can work for other farms and do the same. 12 and 13-year olds who have completed the course can legally drive farm machinery on public roads only when working for their parents or grandparents' farms. If you employ persons under 15 years or who do not have a driver's license, it is highly recommended that you have them attend the training, whether they drive on public roads or not. You may want to talk to your insurance agent to double-check about requirements based on your insurance policy.
Some Logistics:
–All participants MUST be in attendance on either July 21 or July 29 for testing. You can attend two different sites if need be, as long as you complete 18 hours of instruction prior to attending the test day.
– Participants need to bring their own lunches, a refrigerator will be available for storage. Families are welcome to provide snacks, Scott will have water and/or lemonade and/or milk available.
– The course will emphasize hands-on and skill-building exercises, including first aid and fire safety from local emergency response personnel. We will be analyzing machinery for safety aspects, conducting on-farm safety assessments, and dozens of other activities, along with videos and course material review.
Call Scott Reuss, Regional Crops/Soils Educator, at either 715-732-7510 or call/text to 715-701-0966 if you have any questions, or you can e-mail to scott.reuss@wisc.edu
_________________________________________________________________________________________
Registration Form – Tractor & Machinery Safety Training – please print
Name(s):_________________________________________________________________ Age(s): __________
Mailing Address: _________________________________________________________________________
City: __________________________________ Zip code:__________________________________
Emergency Contact Telephone Number:_______________________________________________________
Please complete this form and mail to the following address by July 1, with a check for $45 per participant and made payable to UW-Extension. OR contact Scott with the above information by then!
Oconto County Extension
301 S. Washington
Oconto, WI 54153