Join the educators as the seasons change for a year full of learning and observing nature.

Connect with other like-minded individuals to share experiences and to learn from their trials, good or bad!

Plenty of research based information is available through these programs for you to utilize in your own backyard.

All information presented is geared to the general homeowner and topic discussion is very much encouraged.
Extension Marinette County has a different horticultural focus each year at Harmony Arboretum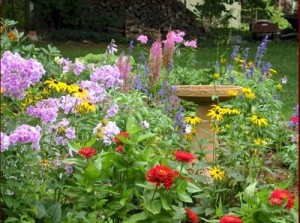 Annually over the last eight years area Northern Lights Master Gardeners Association (NLMGA) has sponsored a Garden Walk featuring local gardens.
We are grateful for the many homeowners and non-profit organizations that have helped make this Garden Walk a success. To allow us to continue this event, we invite homeowners, businesses or non-profits who have garden sites they are willing to open to the public for a one day tour in the future to express interest. The co-chairs and contact information for questions or recommendations of gardens for consideration are: Gail Mandli at 715-789-2872 and Viki Palid at 715-735-6137.
The demonstration garden at Harmony Arboretum maintained by NLMGA on County Road E, Peshtigo is always open to the public. This garden is a wonderful stop for families throughout the growing season. Both adults and children will see and learn many interesting facts at this garden that is maintained by NLMGA members.