NLMGA Garden Walk To Be Held Saturday, July 20th
A Garden Walk sponsored by Northern Lights Master Gardeners Association (NLMGA) will be Saturday, July 20thfrom 9 a.m. to 4 p.m., rain or shine. Eight gardens will be featured to delight all who attend. This year's gardens offer restful and peaceful experiences, various art forms incorporated into garden settings, extensive flower, vegetable and fruit gardens along with water features, gazebo and a few surprises, weather permitting. This promises to be an enjoyable day for all gardeners to learn, cultivate new ideas, and generally relax and enjoy nature.
Host gardeners have made this event possible by allowing attendees access to view their beautiful properties The walk is a self-guided tour and the gardens may be visited in any order. All gardens are located within Marinette County and this year's destinations are between Harmony/Porterfield and just west of Crivitz. Some gardens have stairways, narrow walkways or uneven terrain. Visitors should wear comfortable outdoor attire. The Garden Tour ticket includes a map to help visitors plan their itinerary. Advance tickets are $10 or $12 at the event. Tour tickets are available at Marinette Farm & Garden, Piggly Wiggly in Crivitz, Jack's Fresh Market in both Menominee and Marinette (Roosevelt Road), Extension Marinette County Office in the Marinette Courthouse, and Harmony Arboretum on the day of the Walk.
Northern Lights Master Gardener Volunteers work with the UW Madison – Extension Marinette County to make a difference in the places we live, learn and work. Proceeds from this event support learning opportunities within the community through events at Harmony Arboretum and in collaboration with the UW and other community organizers.
Additional information can be obtained from the UW Madison – Extension Marinette County by contacting Scott Reuss (715) 732-7510 or visit online https://marinette.extension.wisc.edu.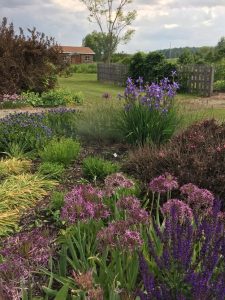 A purple pallet sampler at Harmony Arboretum. Enjoy more shades during this year's Garden Walk sponsored by Northern Lights Master Gardener Association.
Join the educators as the seasons change for a year full of learning and observing nature.

Connect with other like-minded individuals to share experiences and to learn from their trials, good or bad!

Plenty of research based information is available through these programs for you to utilize in your own backyard.

All information presented is geared to the general homeowner and topic discussion is very much encouraged.
Extension Marinette County has a different horticultural focus each year at Harmony Arboretum