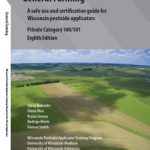 Two Pesticide Applicator Training sessions will be offered yet this winter for any Oconto & Marinette County agricultural producers needing to re-certify or become certified to apply restricted-use-pesticides. Anyone wanting to purchase and/or apply restricted-use pesticides for agricultural production must become certified by either attending one of these sessions or taking a self-study exam. The cost is $40 for the five-year license, reference book and educational session materials. The sessions are:
Wednesday, January 16 – Pound Town Hall
Thursday, February 21 – Lena Town Hall
Training begins at 10 a.m. and last until approximately 3 p.m
Read More...