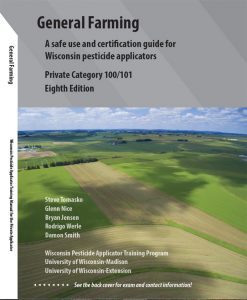 Private Pesticide Applicator Training
2024 Certification Process – Significant Changes!
You must go through the PATSTORE website to both get the PAT book and to register to attend a training event.  We are not allowed to take walk-in's, nor are we allowed to sell the books through county offices.  Please make sure you give yourself time to get the book ordered and sent to you ahead of the training dates.
Anyone wishing to purchase or apply restricted use pesticides, or to apply any type of pesticide onto land not owned or controlled by them, must be certified via the Wisconsin Pesticide Applicator's licensing process.  If you have any questions or concerns about the process, contact Scott Reuss, 715-732-7510, 715-701-0966, scott.reuss@wisc.edu
Private Applicator (allows you to apply on your owned/controlled land) certification options for 2024:
Step #1.  You must order the PAT category 100/101 book from the PAT store website, https://patstore.wisc.edu/secure/home     Start by clicking on the Private Applicator button, then click on the appropriate category on the left hand side of the page.  For most, it will be the '100/101 General Farming' tab, but some of you may want to do the Fruit Crops or Greenhouse/Nursery version.
Click on 'Add to Cart'.  Before you pay for the manual ($40), think about how you want to take the test and if you want to attend a training session.  Read through the options in Step #2 below.  If you want to attend a training class, you will need to click 'Continue Shopping', then click on the "Training Classes" tab on the left.  You will need to scroll through the alphabetical list of counties that are hosting training.  Each of our four counties are hosting one event, put the number of attendees in the appropriate county and then click add to cart ($10).
You will then pay be able to checkout and pay via credit card.  If you do not have a computer or a credit card, request a paper order form from either the Shawano, Marinette, or Langlade Extension offices, but make sure you do so at least a couple weeks ahead of when you want to attend training/testing.  Again, manuals will not be available at county offices or at testing/training sites and we cannot accept walk-in's to the training/testing days.
Step #2.  Figure out how/when you want to take training and take the test.  You can do so in multiple manners.
Self-study the materials and schedule a time to take the test at the Shawano, Marinette, or Langlade Extension offices (or Green Bay DATCP center). With this option, you need to get 70% correct to pass. Options B and C require a 50% correct test score to pass the certification process.
Utilize on-line training. Register for this through the patstore website at the same page where you order your book.  No fee.  You have 120 days from registration to start the training, BUT you only have 14 days from when you start doing the training until completion.  You then must schedule a test date, as in step A.
Attend a 'live' training and test day. Training begins at 9 a.m. for all these options, with test completion likely around 2 p.m.  Again, you must register to attend these training sessions and pay the $10 fee through the PATSTORE.  Lunch will not be provided, although coffee/water and light snacks will be available.  Plan on being at the site about 8:45 and feel free to bring along your own food, as desired.
January 25 @ Pound Town Hall, W8484 Cty. Hwy. B, Coleman (east edge of village)
February 5 @ Langlade County Board Room, Langlade Cty. Safety Building Lower Level, 840 Clermont St., Antigo.
February 27 @ Shawano County Courthouse , Meeting Rooms A/B Lower Level, 311 N. Main St., Shawano.
March 12 @ Lena Town Hall, 6087 Goatsville Road, Lena.
Scott Reuss, Crops/Soils Educator, will be moderating the training sessions, which will be delivered live via zoom with most presentations being done by PAT staff.  In case of technical difficulties, Reuss will be able to deliver the full training.