N3890 County E Peshtigo, WI
(7 miles west of Marinette on Hwy 64 then 1/2 mile south on County Road E)
This nearly 500-acre county farm has been developed into a conservation and horticulture education and demonstration area.  In the Arboretum is a majestic hardwood forest, winding walking trails, a restored prairie, and demonstration gardens.
History of Harmony  A timeline with photos and satellite images
It is always open to the public and free.
Marinette County owns Harmony Arboretum, but the community is key to it's success.  Many groups work to make it better each year.
Extension Marinette County
Northern Lights Master Gardeners & Friends
Marinette County Land & Water Conservation
Chappee Rapids Audubon Society
many businesses and public entities also support the efforts at Harmony
Harmony Picture Tour   – check back often, this tour will be expanded soon!
Facebook  See more of Harmony on Northern Lights Master Gardener page
The Master Gardeners' display and demonstration garden is a 3-acre area within the Arboretum protected by a wildlife-excluding fence. It is always open to the public – but please close the gate!
Most of Extension Marinette County Nature & Horticulture Programs are held at Harmony Arboretum
The variety of gardens include:
Perennial garden at the entrance
Formal herb garden with well over 100 different herbs
Vegetable gardens, including raised beds and wheelchair accessible beds
Shade garden
Water feature
Certified Monarch Waystation
Enabling garden
Childrens Learning Garden

sensory garden
wetlands
beaver pond and lodge
chipmunk tunnel
living maze

Glass hobby greenhouse
Fruit Tree Orchard
Bird Habitat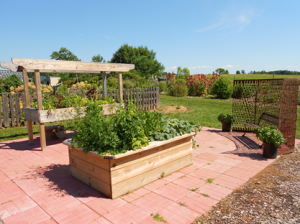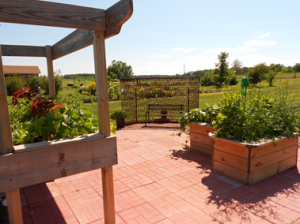 Each year the display and demonstration gardens change, whether it is due to environmental factors or the Master Gardeners themselves, it is constantly evolving.  Visit often!
 There are also a number of smaller demonstrations showing phenology, lawn establishment & management and pollinator habitats.