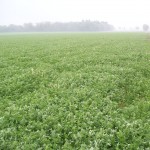 Alfalfa ready for harvest to achieve dairy quality forages
The full series of Alfalfa Quality Monitoring project fields were walked Monday afternoon, June 1st by Agriculture Agent, Scott Reuss. Results show that the weekend's cooler temperatures slowed alfalfa growth down a bit, but maturity is still progressing and it is ready to harvest for any Marinette County area farms wanting to achieve dairy quality haylage in the feedbunk. Part of the reason for this statement is the anticipated temperatures for the majority of the week being well into the 80's. These temperatures will push alfalfa maturity much more quickly, and we are likely to see fairly significant forage quality drops.
Due to the combination of these factors, the June 1st samples will be the last full sample set taken during the 2020 quality monitoring project. If circumstances allow, Reuss will collect data on area alfalfa fields still standing and report those numbers here.
The results are below. Remember that you can review the entire state-wide alfalfa monitoring project results by going to https://fyi.extension.wisc.edu/scissorsclip/ You need to make sure the date slider is set for just this year's data, but then you can view either all counties' data, or select particular counties.
Site             Max ht.      RFV
County Line   27"         184
Coleman        26"        190
Grover           26"        189
Porterfield      27"       201
Beaver          28"       176
Beaver West  29"     179
Middle Inlet   25"      196
Wausaukee  27"       187
Please note that the Middle Inlet field is a different field than the one used for the rest of this year's survey, as that original field had been harvested. You can call Scott Reuss at 715-923-0807 to get the most recent data and discuss timing or other forage management issues with him.