2023 Alfalfa Monitoring Project Underway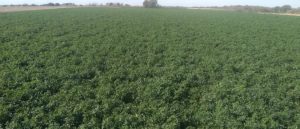 Regional Crops/Soils Educator, Scott Reuss, has begun to monitor area alfalfa fields to assist harvest date decision-making for area farms.  The first day of field work was Thursday, May 18 and showed that alfalfa is a ways away from being ready to harvest, but is starting to put on growth.  
Other days of sampling will include Tuesday, May 23; Friday or Saturday, May 26/27; Tuesday, May 30; and Friday, June 2nd, with this date likely to be a shorter route due to maturity.  You can access new information by calling 715-732-7510 and listening to the recorded information, or by contacting Reuss via call/text at 715-701-0966.  (Results for the rest of this year will not be updated at this website.)  Please find updated local and state information at  the state-wide website, located at: https://fyi.extension.wisc.edu/scissorsclip/
---
Alfalfa Monitoring Project Results, May 18, 2023
Although was in a bunch of fields Thursday, will likely walk more fields next Tuesday and Friday/Saturday. Please let me know if you have fields you consider representative of your area and you are willing to have me walk them. Particularly if you are in Shawano or Langlade Counties, as have a few areas where I don't have participating fields.
Please note that these results are the PEAQ readings for pure alfalfa. Results from Outagamie County and my intuition both say that these results are probably 30-50 points lower than what a laboratory analysis would return as RFQ, as we have not had fiber growth conditions yet this year.
| | | |
| --- | --- | --- |
| SITE | RFV | TALLEST STEM |
| Middle Inlet | 255 |   17 |
| Beaver | 252 |   19 |
| Grover | 225 |   22 |
| Lena North | 217 |   22 – one stem with visible buds |
| Stiles Jct. | 227 |   21 |
| Chase | 217 |   21 |
| Angelica | 217 |   21 |
| Caroline | 222 |   20 – one stem with visible buds |
| Bowler A | 237 |   18 |
| Bowler B | 250 |   18 |
| Phlox | 242 |   16 |