Alfalfa Forage Quality Changing, First Harvest to Happen Fairly Soon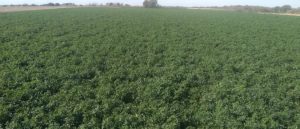 The annual Extension First-Cut Alfalfa Quality Monitoring project is indicating that first crop alfalfa is maturing and will be ready to harvest for most dairy farms yet in May.  This project monitors alfalfa forage quality changes, allowing farms to make informed decisions about harvest timing.  The set of data collected on Thursday, May 19 from 12 fields across the five county region found that most fields are in the 220 to 240 Relative Forage Value points, and most dairy farms harvest when this value is between 180 and 200.  However, two fields were more mature and registered closer to the 200 mark.  Here are the specific results:
Location                                County                      RFV as of May 19
Lena                                       Oconto                                 205
Lena West                             Oconto                                 197
Gillett                                     Oconto                                 222
Cecil                                       Shawano                             225
Bowler 1                                Shawano                             224
Bowler 2                                Shawano                             214
Phlox                                      Langlade                             235
Polar North                            Langlade                             245
Crivitz                                     Marinette                             220
Wausaukee                           Marinette                              220
Wausaukee New Sdg           Marinette                              240
First crop is usually the most important harvest of the year, and farms use quality data to make sure that they harvest at the appropriate forage quality for their operation.  The only way to be sure about harvest timing is to monitor quality in your own fields by submitting actual forage samples, using the Predictive Estimated Alfalfa Quality (PEAQ) system, or by following the results of the area-wide monitoring project.
Scott Reuss, Crops/Soils Extension Educator, will gather quality data again on at least a weekly basis.  Producers can call the Scissors Clip Hotline 24 hours a day at 715-732-7510 to get the most current regional information.  Producers can also log on to the state site and look at data from all cooperators across the state, at https://fyi.extension.wisc.edu/scissorsclip/or can e-mail to scott.reuss@wisc.edu
Normally, pure alfalfa fields will drop about four or five forage quality points per day.  Most weed species, along with forage grass species, have lower values than do alfalfa and clovers.  Thus, fields with high weed or grass content need to be cut sooner than those which are pure legume stands.
Each farm must match their harvest timing to their forage quality needs.  Farms must also account for harvest and storage quality losses of nearly 10%, meaning they must harvest at 200 to get 180 RFV feeding quality.  Some dairy farms want 185 or higher RFV point feed, while beef farms may wait to capture more yield and have 125 point hay/haylage.  It is a balancing act for dairy farms in this extremely high feed cost year, as fewer cuts means more tons of forage and less harvest cost.  However, more cutting events yields higher quality alfalfa and fewer purchased nutrients.
If you have questions about forage quality or other crop related concerns, please contact Scott Reuss, UW-Madison, Division of Extension, Crops/Soils Educator for Marinette, Oconto, Shawano, Langlade, and Lincoln Counties.