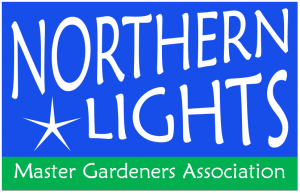 Annual Association Reports
Review some of the highlights of what Master Gardener Volunteers do in our area from each of these past years:
2018
(pdf format)
2017
 (pdf format)
2016
 (pdf format)
2015
 (pdf format)
2014
 (pdf format)
Events sponsored and supported by Northern Lights Master Gardener Association
Members volunteer time and efforts in many different ways to help make each event successful
Spring Garden Conference
This day-long event inspires everyone to think spring and learn new tips & tricks for the coming season.  This program of educational classes is for the public held at UW Marinette Campus.
Garden Walk
Join us in this exciting community event.  Gardens of all types will be showcased.  These gardens will dazzle you with their fabulous displays of flowers, intrigue you with garden art/ structures and inspire you with vegetable gardens and fruit orchards.
Applefest
Applesauce, apple cobbler, and apple pie are just the start of the wondrous foods that utilize Wisconsin's favorite tree fruit.  In addition to discussions on apple harvest, preservation, and cooking tips, we'll taste test different apple cultivars & numerous apple incorporating recipes.  Attendees are encouraged to bring their own favorite apple based treat.
Breakfast on the Farm
Annual all-you-can-eat and family-oriented activities event.  Check out Breakfast on the Farm Facebook page or the website for more information.
Marinette County Fair
UW-Extension office educators will again have an extensive display of the many areas of expertise that they offer to the public.  Northern Lights Master Gardeners will also be available for horticulture questions.
 Master Gardener Demonstration & Display Gardens – Harmony Arboretum 
If you are in the Marinette area, take some time to visit our demonstration gardens which are part of the Harmony Arboretum @ N3890 County E, Peshtigo, WI.  The Master Gardeners' display and demonstration garden is  a 3-acre area protected by a wildlife-excluding fence.
It is always open to the public – but please close the gate!
The variety of gardens include:
Perennial garden at the entrance
Formal herb garden with well over 100 different herbs
40 raised beds containing vegtables
Shade garden
Water feature
Certified Monarch Waystation
Enabling garden
Childrens Learning Garden

sensory garden
wetlands
beaver pond and lodge
chipmunk tunnel
living maze

Glass hobby greenhouse
Fruit Tree Orchard
Bird Habitat
There are also a number of smaller demonstrations showing phenology, lawn establishment & management and pollinator habitats.